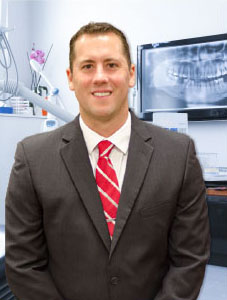 Meet Benjamin R. Lamielle, DDS
Dr. Lamielle earned his Doctor of Dental Surgery degree from The Ohio State University College of Dentistry (Columbus, OH) in 2004. He earned his Bachelor of Arts in Zoology from Miami University (Oxford, Ohio) in 1999. He is professionally trained and skilled in all facets of dentistry, including cosmetic and restorative procedures.
Family
In 2006, Dr. Lamielle married his wife, Lindsay, who is a corporate director of social commerce. The couple has three young children; a son and boy/girl twins. In his spare time, Dr. Lamielle enjoys hiking, camping, fishing, reading, and exercising. He is an avid fan of both OSU and Cleveland sports teams.
Giving Back
With a passion for the community, Dr. Lamielle often provides free dental care at charity-based clinics in Columbus. He's an active member of the Ohio Dental Association, serving on a special council that works to bring oral health care to Ohio's most vulnerable populations as well as a committee that deals with dental education and licensure through the ODA. Dr. Lamielle also volunteer coaches youth sports at St. Brendan's Church.
As the first member of his family to graduate college, Dr. Lamielle credits his parents for supporting his dreams and ambitions in life. It's a legacy that he wants to continue in his role as both a parent and a community member.
Philosophy
Dr. Lamielle sees dentistry as a unique combination of science, art and relationships. He enjoys the opportunity to improve the health and lives of his patients, while doing work that he loves.
"Dentistry gives me the ability to help people not only improve and maintain their physical health but also their emotional health. Making someone feel confident and comfortable with their smile is very rewarding."
- Dr. Lamielle